More of a reflection. I just need to get this out somewhere and I didn't want to do it on my blog. It's a long ramble, but as I've never really rambled about this and you guys always have good advice and wonderful comments I decided there was no better time or place. Onward...
Violent crime in the city I live in isn't uncommon. Deaths related to violent crimes are. There are areas around campus that I would not deem safe and would discourage anyone from living if they could help it. Burglaries are common and rape really is something people have to worry about. Death isn't. Fayetteville had three homicides last year. For a city that has around 80k people in it at any given time, that's not a bad number. However, two of those people died in the same incident and I knew one of them. Not very well. In fact, I only met him one time, but that one time changed both of our lives. He was dating my best friend Marcelle's roommate in the late summer of 2006. She committed suicide by GSW while he was waiting for her in the living room. I had met him about six hours before that happened, which was three hours before my friend and I left that apartment (Don't even get me started on "what ifs" of that situation). Nine months later (last April) he and his new girlfriend were shot to death in his apartment just off-campus. It was a big deal because, like I said, homicides are uncommon, especially ones that are as heinous as that one was (I'll spare you the details). It was only a day or two before suspects were named and sought after. And it was only a day or two after that (and after they caught the guys) that Marcelle and I were nearly thrown out of a bar because one of her co-workers was really drunk and told us that she had known all along who it was that killed him because she was sleeping with the guy (we sort of off-hand knew that it was probably for free drugs). We cornered her and made complete emotional assholes of ourselves. I understand why she didn't before they were caught. I mean, if a drug dealer that had just viciously murdered two people told me to shut up, I would. But he was in jail with no bond. Damnit, tell someone! GRR! Anyway, luckily for us the bouncer of that bar was a friend of ours. He just told us to calm down and eventually we got her to talk to the police about it.
The whole situation last year was just really awful, and this was someone that I didn't even really know. All I know is that in the five minutes that I actually spent with him, I learned that he was a compassionate and caring guy. A little strange, but he had good intentions, especially when it came to Marcelle's roommate. He really cared about her and wanted to help her get better. It's just an awful situation that has left me continuously emotionally drained for the last year.
Sunday we had the first homicide of the year (and hopefully the last). My ex-boyfriend's best friend, Katie, was murdered by a crazy ex-boyfriend. Oddly enough, I never met Katie. When I was dating Nick, neither of us saw hardly anybody but each other (I can't imagine why our relationship never worked out). But he talked about her all the time, going so far as to tell me that he had always wanted to date her and was definitely the type of girl he wanted to be with. It never bothered me that he said that because he also said that she and I are a lot alike. A lot of my good acquaintances and a few friends knew her very well. The ex is engaged to a mutual friend of theirs now (and a former co-worker of mine, but that's a whole other bitter story) and actually met at one of her parties. This is much different from what happened last year. This time, so many people that I care about are deeply affected by this tragic event and it's killing me as a result. First of all, I officially wrote the ex out of my life just two weeks ago (Another long story), so I have no idea how he's doing. I'm pretty sure he's never had to deal with anything like this and I just want to make sure he's fine. I'm sure he and his fianceé are dealing with it together (as they should be) but I'm worried. I sent him an email letting him know that I care because I do, so if he doesn't call then it won't be because he thought I didn't want him to. So there. It's still just really crappy.
The worst part of all of this long story is that both murders happened a few blocks from each other, so everyone has a comment about that. The other sucky thing is that I'm a receptionist on campus and the school newspaper sits on the counter in front of me for anyone to pick up. Naturally, everyone has had a comment on "all the murders in that area" and hoping that I "don't live on that street! You might die!" or something. Most of them have been looks of horror and general harmless comments. One was almost a joke. And all of them nearly made me cry. I don't want to deal with this anymore. This is the sixth person my age that I've known to die in the last two years. All of them were from 20 to 24 years old. All of them were basically good people. A few I know for a fact were extremely talented and had promising futures. Now they are gone because of jealous boyfriends, freak accidents, and incurable diseases. It almost makes one believe that there really are people in this world who are too good to be here because all of the circumstances in which they left are too bizarre to be random acts of nature or even of self. Even when Ami killed herself, it was after a strange weekend of strange events that still leaves us scratching our heads. I'm no stranger to mortality. I've watched many people in my family suffer through illnesses and literally watched a few of them die. I've even sat with my sister in the hospital as she was suffering from a debilitating episode related to MS. But somehow, even the with the ones I knew very little, all of them feel closer to home that even my dad passing away. It's the only thing I can't figure out. I figure it has something to with peer groups and them being a bigger influence on my life than I realize or something, but it's really weird.
Oh, well. I guess this is the end of my life's ramble. I just sort of realized that I had never even really talked about any of this stuff. Katie was an artist. I really liked her work and since we have a lot of artsy folks here, I just thought I shared one that I've always liked (I kind of stalked her a bit on MySpace. She and I were the only two people who ever posted stuff on the ex's profile).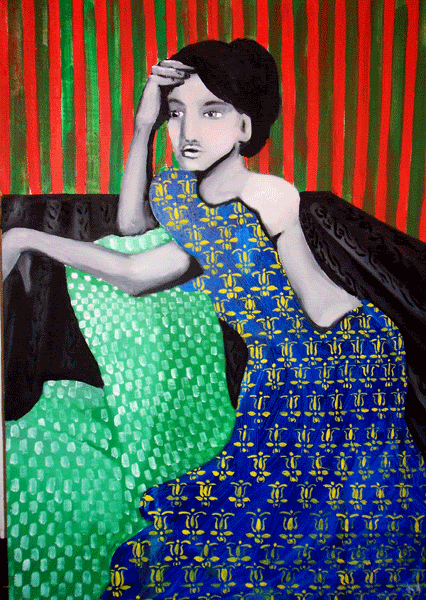 This used to be her profile pic and whenever I think about her for the rest of my life I know this will be the image that will pop into my head: